During the Piazza di Siena CSIO, its prestige partner Rolex organised a meeting with the great champion and Rolex testimonial of many years, Eric Lamaze. The Canadian rider was welcomed by Merrick Haydon, representing the important company and acting as its host in the lounge of the Rolex box where Eric Lamaze was surrounded by equestrian journalists.
Lamaze won the Rome Grand Prix twice before Rolex became its sponsor, in 2011 riding Hickstead and in 2014 on Zigali, when the footing was in sand and not grass. With the authoritativeness of a great champion, thanks to his instinct, sensitivity, technical and competitive ability, as well as the wisdom of a real horseman thanks to the many years he has spent with horses as well as his experience as a sportsman, but also that of a man suffering from a serious illness to which he is reacting with courage and determination, Eric Lamaze spoke of himself, his life with horses, his victories and his darker moments, expressing his opinions regards to our sport.
He has done this with the depth of a great champion, with irony and farsightedness.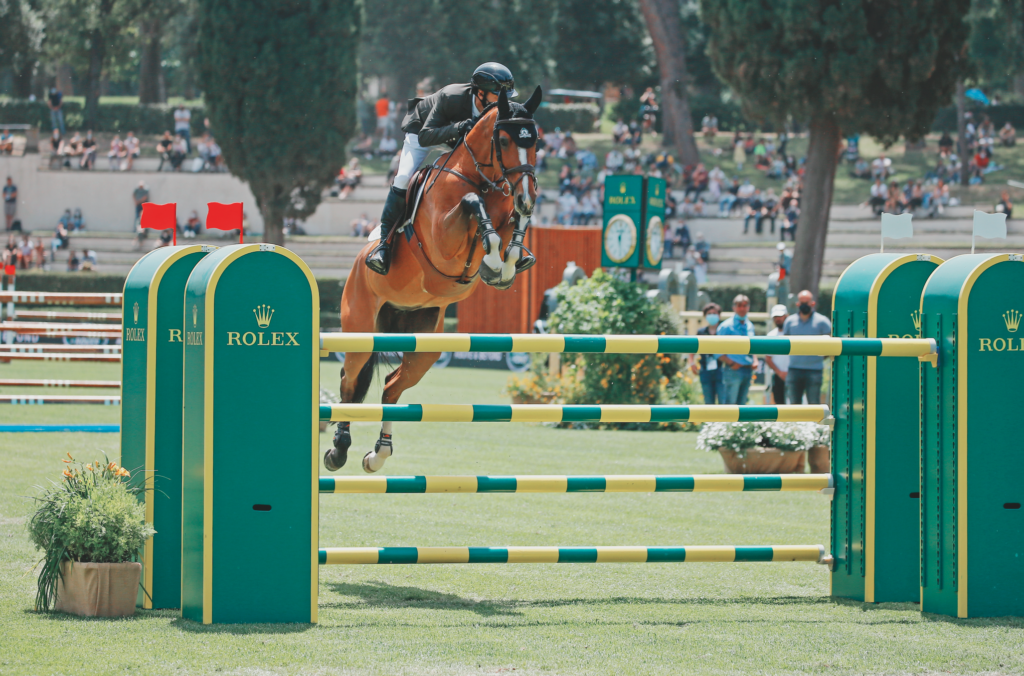 THE INTERVIEW
How about your new position as Chef d'Equipe for the Canadian Show Jumping team, and what is like to be on the ground instead of in the saddle?
During the last year or two of my riding career it was a question of whether I should continue or not and I took it as far as I could whilst ensuring the safety of my horses. I cared more for my horse's safety than my own! After the Rolex Grand Slam event in Spruce Meadows in September, where Canada won the Nations Cup™, I had a medical exam which showed that I had severe bleeding on the brain for the fifth time. The doctors realised that the impact of the horse landing after a fence caused the bleed. If you watch any rider, the neck always goes down when the horse lands. It was a bad day for me, and it resulted in three months of lying still in bed with only one hour during which I was able to do anything. So, when I went to the Geneva CHI in 2021 for the retirement of Fine Lady 5 – it was very big effort for me as I was paralysed in one arm and one side of my face due to surgery
When I walked into the building, I was very emotional, and I stopped and thought that this was my new reality. I went back to my lorry and shed a few tears, but then I fought back and went on with my life. I cannot say that I don't do the same thing when I am here or at La Baule, but it is what it is, and I have to keep going with my life. Then James Hood put his trust in me and made me Chef d'Equipe. It was a role I had always thought that I would like to have one day. I wanted to continue to help the Canadian Team and to help bring young riders to the top of the sport. As a rider at that time, I felt that there were not enough young riders coming up, and I thought there were things that could be improved.
I have found myself having more creative ideas for our sport now that I am not riding. After all those years of riding, I had no idea of what our federation did. I have always loved teaching others and now I live my life through others. So rather than riding one round in a Nations Cup I now ride eight rounds, as I really do ride with each member of the team. Of course, it was a little hard to carry the Canadian flag in La Baule and to look back and see the riders on their horses, but I am really enjoying my new role.
Do you project the way you were as a rider onto your students?
100%. I absolutely try and make them what I was. I had a system that worked for me in this sport for so many years and I think it seems crazy not to try to transfer this knowledge when I had a winning formula. They must accept and follow it; I was a winner, I never accepted defeat, and I always drove forward and so they have to learn how to do that. As a rider you have to be able to get into trouble so as to be able to fight and not give up.
You have always taught individual riders, and now you are in charge of a team, is there a difference in the way you teach?
There is no difference. I do not have one way of teaching; I look at the physique of both the horse and the rider and change my skills to a way that suits them. When it comes being Chef d'Equipe, some of the riders come with their coach and then I speak to their coach and see what they are working on and watch them do their thing and then add to it.
I am much closer with some of the riders than others, but I am hoping that in time a lot of people will come to me to train before an event. We have made it mandatory for riders going to a big event such as the Nations Cup to come to me before they compete. I refuse to go to an event with even one horse and rider combination that I do not know. I am not going to take that risk – I like winning too much. Once I get past the technical aspects of the role, then it is about creating team spirit. I try and put four killers together and I send them in the ring.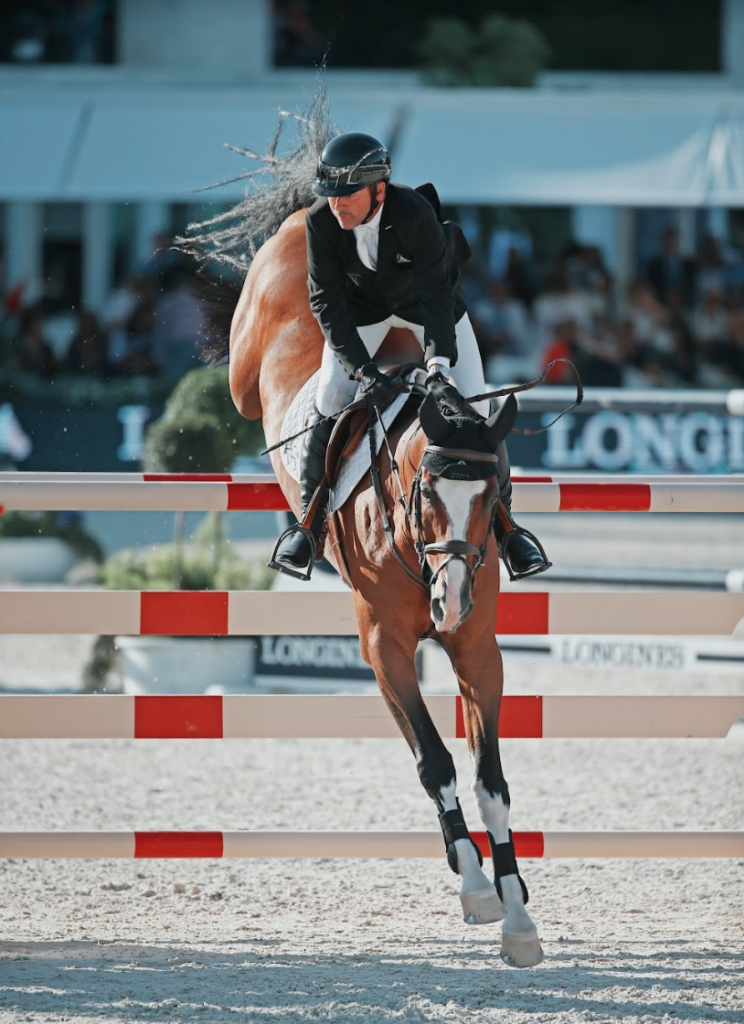 So, do you enjoy your new role?
I love it but I cannot tell you that I do not miss riding. My head could still ride, I watch the jump-offs and I think 'why are you doing that', and it is frustrating. But, at the same time, the more I am involved in these new and different aspects of the sport, the more I learn all kinds of different things that are involved and that is exciting for me. If I was not Chef d'Equipe it would have been devastating for me. I am sure someone would have hired me as a personal coach, but it would not have been good enough, because I like volume. I teach a lot at home, and I always have done it. I taught more at home than I ever rode. I am a terrible flat rider, so I had someone more capable than me to do that.
Next goal with the Canadian team will be World Equestrian Games. Do you think they will win a medal ?
It is exactly what I am aiming for and if we are second, it will be a disappointment. I do not think of finishing second or ever not being on the podium. When I was riding, I used to hear from my coach that the World Equestrian Games was all about qualifying for the Olympic Games. I always said to myself that I will not tell my team that we are there just to qualify for the Olympic Games, but we are there to win a gold medal. You always need a bit of luck but we will train hard and be ready.
The level of show jumping is very high, there are many shows all over the world, what are the best ways of keeping a horse fit nowadays?
As a rider you cannot attend every show, and at some shows you must attend as a non-competitor, that is when you go there not to win but to educate your horse. Nowadays, there is no time to train the horses, as we go from show to show. In the past we would have a show followed by two weeks at home and then another show. So, a lot of horses now go from show to show with the same problems. Riders now have to have enough horses to follow the tour and I always say it is not worth taking a risk on a horse that you know is going to be out of its depth just because you want to compete in a certain show – it never ends well.
You must take your time to produce your horses. In Belgium, for example, there are small national shows on Mondays, Tuesdays and Wednesdays, which is great because you can train your horses there and then take them to a big show later on in the week. Too many riders go to shows based on their eligibility to participate and do not have the horse to compete at that level. 
What advice would you give a young rider?
To find me! I came from nowhere and I started my business [Torrey Pines] with nothing when I was nineteen-years-old and it still exists today. I went from a riding school to World No.1 to Chef d'Equipe. I had never dreamt of the Olympic Games, I wasn't the sort of kid that watched show jumping, because I was not in that league. But somehow by working hard it just unfolded this way.
I remember sitting in the saddle at the Beijing Olympic Games where I won individual gold and, when I picked up the canter, the first stride never felt so big or so alive. I have never ridden for something so prestigious, and something that I wanted so much – the horse and I became one, and it was the biggest stride he ever took. People do not give the young a chance anymore as they used to, they use them as working students, but they never get to ride. They have to groom horses, and they will ride a horse once, but the professional will always be there. So, it is very difficult and I am not sure I would have survived in today's world, so if I had started ten-years-ago I probably would not have made it. That is why our goal is to refresh this and find real talent at Pony Clubs or at small national shows. We have a team of winners, Tiffany Foster comes from no money, but she made it and that is what I want to help with. Of course, I want people with money as well because they can buy horses, but I don't want people who don't have the means to do this to then give up, because they are sometimes the best riders.
How important do you think it is to communicate your knowledge to your students?
It is extremely important to give back to the sport. Why would you gain so much knowledge in the sport and not give it back – we cannot take it to the grave – it has to be told and explained. I was planning on doing a movie about my life before Covid, and I worked for sixty-hours on it with a partner. In my life there have been highs and lows – but there is glory at the end of it and everyone can have that moment in their life. I was always that guy that could be at the bottom and climb back to the top and with this team we are going to do that. This team is going to make my whole five years of illness go away and that is what I am planning on doing. The point is that knowledge is made to be given back. Good knowledge, not just knowledge because you heard it third-hand. I teach the truth and give the riders all the emotions they are going to experience when they go into the ring and I think that is why I am really good. Once you are in the ring you lose confidence, but what is important is to rebuild that confidence when you hear the bell, and this is what I try and teach my riders.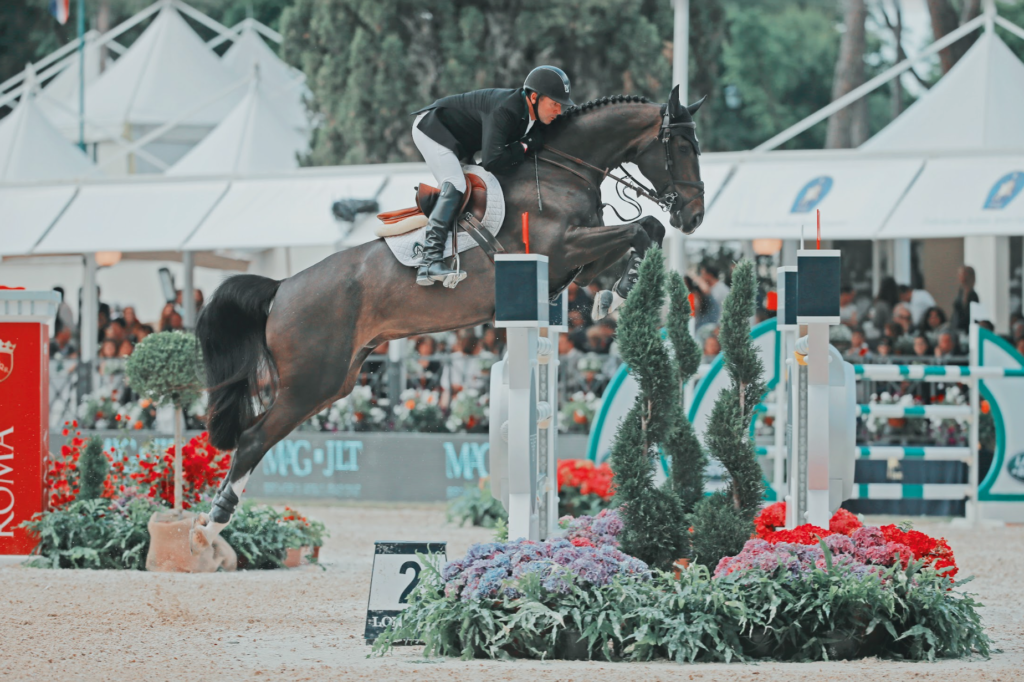 Which horse on the international circuit would you like to ride?
Simone Delestre's Cayman Jolly Jumper, one of Hickstead 's offspring! If you had a healthy Eric that is his kind of horse. No control in the warm-up but it's all about the ring. Cayman Jolly Jumper looks very similar to Hickstead!
You are part of the Rolex family, what it is like to be part of that family and what Rolex has done for the sport?
When I had Hickstead, I was in Geneva and Rodrigo Pessoa approached me and told me about Rolex. I had a few sponsors that gave me stuff – a saddle, bridle, and I thought that that was very cool. But when Rolex came along it signified a change in my career because it took me to another level. At the time I did not know many people who worked at Rolex, but I met with them and went to Geneva – I remember it was the most beautiful building. Later on, when I was very into golf, I was invited to St Andrews to play. To become a Rolex testimonial was one of the biggest accomplishments in my life. Rolex have been incredibly supportive, and it has been all giving on their own side and very little from mine. I have often thought we could do a lot more as riders. It is a prestigious moment in a rider's life to be sponsored by Rolex and to be part of the Rolex family is something you will cherish forever. The Rolex Grand Prix has always been one of the biggest in the calendar – it is sure to be a fantastic event and I am hopeful that we will have a Canadian winner – we will definitely be prepared and have our game faces on.
What do you think of the Rome Piazza di Siena CSIO with its grass arena and the incredible facilities?
It is one of the most picturesque events in the world; there is nowhere like the CSIO Roma Piazza di Siena. Shows like this and La Baule which I have competed at for many years have now been revived by Rolex. The Roma Piazza di Siena CSIO used to have grandstands around the arena. As riders we thought it was fine, but we never realised how beautiful this venue is without the grandstands, so I would much rather have it like this. When the public watch they can sit anywhere and lounge on the grass – they are completely relaxed which is great and it is less troubling for the horses as they have fewer people close to them.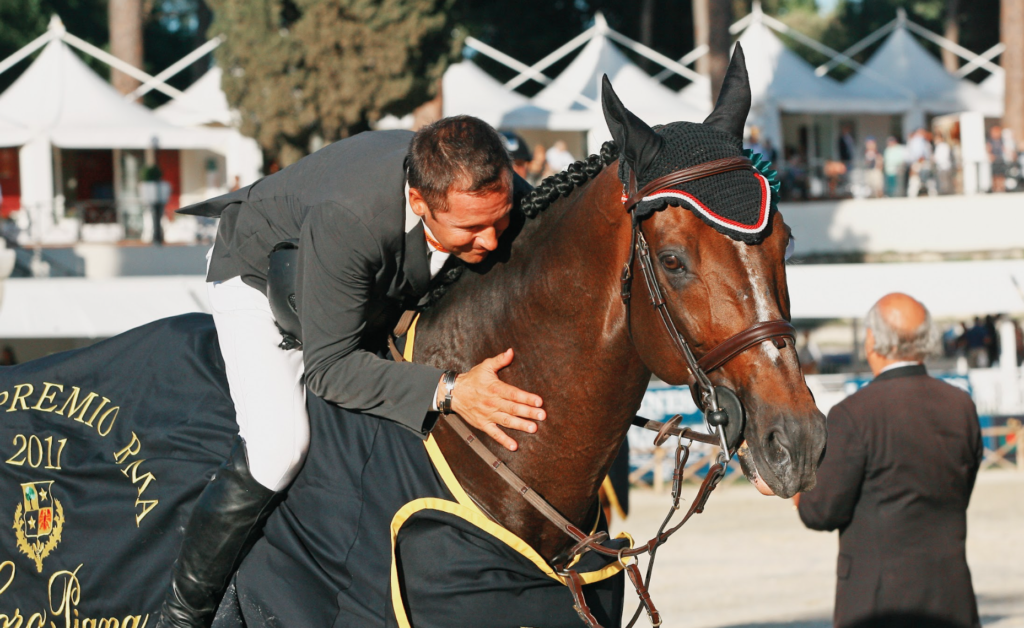 HICKSTEAD'S WIN AT THE ROME 2011 GRAND PRIX  «When I won on Hickstead in 2011, it was a 14-horse jump-off. Nick Skelton was third to go and he jumped a winning round – the other riders thought he was unbeatable even with 13 horses still to go. Michel Robert, I believe went two horses later and beat Nick and the riders were shocked; then Michael Whitaker went and took the lead! I planned to go in order to win. We planned to go from fence two to fence three taking the shortest possible route, which meant the oxer was very angled. I was basically aiming at the standards, but it meant that I was on a straight line to the double. Sometimes people on the ground are braver than those on the horse! So, I looked at our plan and I realized that it was the only way that I would beat the other riders, so tried. I rode the first line the same way the other riders had, with the same number of strides. Then, after the second fence I opened my right rein wide very early and let the horse know where I was going leaning over as if on a motorbike – it was the most amazing thing ever. I flew on landing; my horse had no idea where he was going. I jumped the 1.55m oxer, which had trees in the middle, at an angle, and found myself on a straight line to the double. Everyone else had ridden a bending line here; I never took a pull around the whole course, and I think I won by around 2 seconds.»
HICKSTEAD LEGACY Thanks to his wins, Eric Lamaze has forever linked his name to Piazza di Siena together with Hickstead, who however continues to be present through his offspring. When France won the Nations Cup last May, the team included Simon Delestre riding Cayman Jolly Jumper, currently the best of Hickstead's offspring, contributing to the win with a double clear round.