By Laura Conz
We are seeing a constant improvement in athletes' performances in all sports disciplines and the Olympic Games are often the best global showcase for results achieved, and it is there that the bar is always raised slightly higher. This is an awareness all athletes and coaches must always bear well in mind when embarking on the long path to the next Games.
The Awarding of Scores
One must above all know how top-level competitions are marked: marks are given by judges who may vary between a minimum of 3 or 5 (in international competitions or Italian Championships) and a maximum of 7 (Continental Championships at Grand Prix level, World Championships, Olympic Games and World Cup Finals).
In order to guarantee even more impartial judgement and devoid of possible distractions or prejudice, in Continental and World Championships, World Cup Finals and the Olympic Games a Judges Supervisors Panel, the JSP, is used. It consists of 2 judges and 1 trainer permitted to correct the marks given by a judge for a given movement when it differs from those attributed by the others.
This done rewatching a video of the test and when necessary in slow motion. Furthermore, the JSP Panel can apply the 6% rule, hence when the final score of a judge differs by 6% or more from the average score given by the other judges for the same horse and rider combination, the JSP can unanimously decide to change it, bringing it to the same score attributed by the closest judge.
The score sheet envisages the attribution of marks ranging from 0 (not performed) to 10 (excellent) for each figure in the test, starting from when the combination enters the arena at the letter A until the final salute, and the mark for the General Impression, for which marks ranging from 0.5 to 9.5 (so-called half marks) are also permitted. The use of decimals is also permitted in Freestyle tests for the artistic score.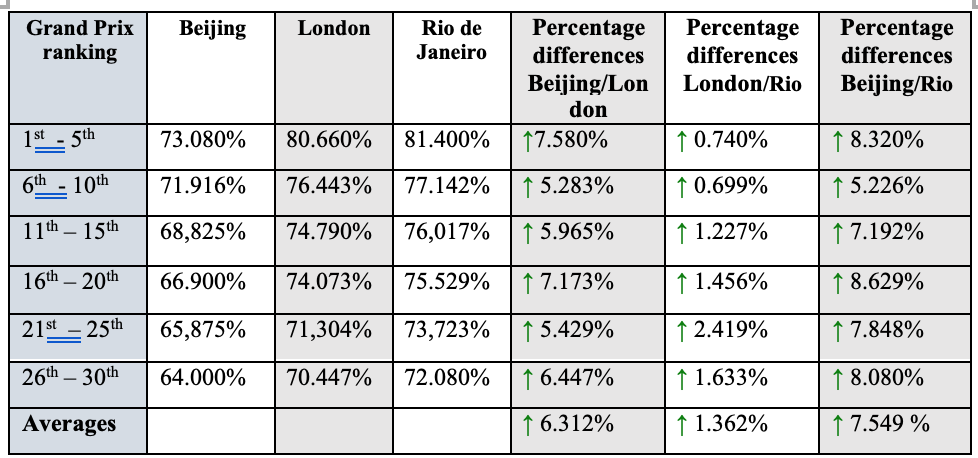 In this chart I have emphasised the significant technical improvement that has affected dressage over only eight years. In Beijing 2008 only 9 horse and rider combinations received scores of over 70% while in London 2012 the number rose to 30, and 3 of those scored over 80% (Valegro, Parzival and Damon Hill). In Rio de Janeiro 2016 36 combinations scored over 70% with 4 over 80% (Valegro, Desperados FRH, Showtime FRH, Weihegold OLD).
If one looks at the winner's score one observes an improvement amounting to over 7% between Beijing and London. When comparing Beijing and Rio one sees that the percentage needed to win on the first days varies by over 8% (8.65%).
At an Olympic level the winner of a qualifying test is always a potential gold medal candidate or almost certainly likely to be on the podium; we are therefore speaking of exceptional athletes and horses of rare beauty and talent. So as to assess whether this technical growth is effectively real and includes improvements at a global level I also verified other horse and rider combinations: it is indicative that in Beijing the 30th place was obtained with a score of 63.375 compared to 70.243 in London and 71.5 in Rio, hence with a percentage rise of over 8% (8.12%). This data is extremely important as it determines access to the semi-final which is held for the top 30 competitors.
When one analyses averages in blocks of 5, these too indicate significant improvement, confirming the trend from a minimum of 5.22% to a maximum of 8.62% (from 16th to 20th place). The top group of horse and rider combination is decidedly improving with an 8.32% rise but in the lower group too, ranked from 26th to 30th, there is an 8.08% rise. •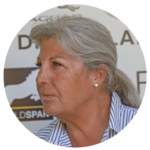 Laura Conz
Laura Conz's career in equestrian sports has been at the highest possible levels both as a rider and as a coach. Laura Conz is: Level 3 Instructor; Master of Excellence; Italian Federation Level 3 coach for Paralympic equestrian sports; Level 4 European coach, an acknowledgement granted for the first and only time in equestrian sports. Laura Conz has held many prestigious positions within the Italian Equestrian Sports Federation, she is currently the Italian Equestrian Sports Federation's chef d'équipe, team manager and a member of the Dressage Committee for selecting Italian Young Riders, Juniors and Children's teams. Laura also coaches Sara Morganti, the winner of many Paradressage medals.