by Susanna Cottica
The British Olympic champion Scott Brash is consistently ranked among the top riders in the world and he represents his country at Championships and Nations Cups and he is a winner of the world's most prestigious Grand Prix. Scott competes around the world at the highest level in the sport without losing sight of where it all began; his love of horses. Rider with an impressive career, Scott Brash made history of showjumping when becoming the first, and the only so far, rider to win the Rolex Grand Slam of Show Jumping in 2015 with his top horse Hello Sanctos, after their consecutive grand prix victories in Geneva, Aachen and Spruce Meadows.
Team gold medal in the London 2012 Olympic Games with Hello Sanctos, he took part in the Tokyo Olympic Games 2022 riding Hello Jefferson. He took part in World Equestrian Games Lexington 2010 with Hello Intertoy Z and the in Caen 2014 riding Hello Sanctos. With Hello Jefferson he took part in World Championships Herning 2022 where they won the team bronze medal. Riding Hello Sanctos he won team gold and individual bronze at the Herning European Championships 2013, and with Hello M'Lady he won team bronze at Rotterdam European Championships 2019.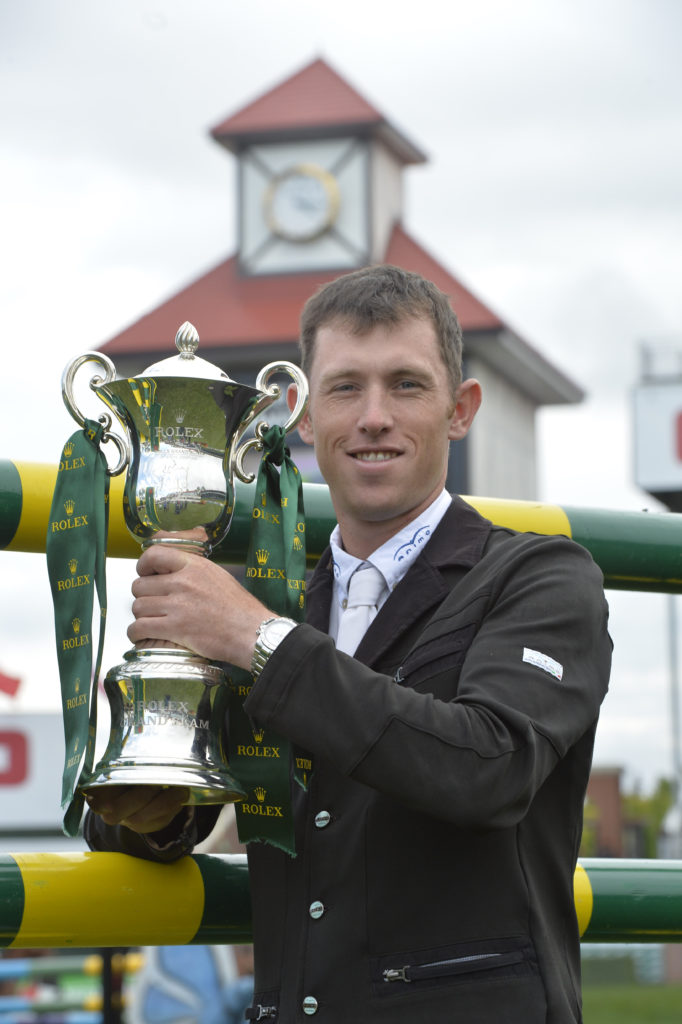 Scott, you are the only rider to win the Rolex Grand Slam so far. What do you feel about this great win and what how has this changed your life as a rider?
It probably changed people's perception of me and Sanctos. Maybe people recognise us more, or hopefully notice how exceptional Sanctos was, even more so that he was capable of winning the Grand Slam. For me personally it is the greatest moment in my career, that day will be with me for the rest of my life, and I will remember it forever as one of the best moments in my sporting career. When I was young I was a little bit shy, I think probably because I come from Scotland, when growing up I always felt I was the unknown in this sport. Even when I would go down to England where the bigger competitions were, I always felt like the underdog. I always felt like I had to prove myself. When you go to the bigger shows and become more successful, people have more respect and talk to you more, but in my younger years I felt I had to prove my worth.
Now you are one of the best riders in the world, not only for your horse sense and your technique, but also because you are a real horseman, you can create a great relationship with all your horses. What is the balance between being a rider and a horseman?
I think you need to be both, you have to try to be the best horseman you can possibly be and have the best possible connection with your horse. I strongly believe you can only be successful when you manage to create a partnership with your horse; this is when you achieve the wins. Of course, you can be a very good horseman, but you would not necessarily be a top rider. You need to feel your horse, I probably ride a lot of my feeling, I react to what I feel from my horse, this is important. You can be taught how to ride a line, but you need to react to whatever happens at that moment. I think this is the whole concept, you have to be both a good rider and a good horseman to be at the top of this sport.
Do you think that horses are your teachers?
Yes, definitely. Horses are our teachers, people say horses don't talk but a lot of time they are talking to us, and we have to listen to them. They talk us through their actions, and we must pay attention and listen to them. To be able to understand what a horse does like and what he does not like, you really have to listen.
In our sport we must pay attention to all small details; everything can suddenly change. You can have ups and downs; how do you manage to keep the focus on your goal?
It's difficult. Like in any sport at the top level it looks easy. Golf, for example looks easy, but there are so many variables that you need to consider. It is the same with our sport. It looks easy but there are so many details that we need to take into account, and so much can happen that can potentially make our original plan change. I think it's about staying true to what I know, and staying consistent to what I know, listening to my horse. It's easy to get caught up with what is going on outside the arena, but at the end of the day when you go in, you need to remember what you and your horse can do and focus on that. It is important to stay true to what you and your horses' capabilities are and leave everything else out of the ring. It doesn't matter how many people are trying to give you advice on what to do, the bottom line is you need to go in and stay focused and make sure you do what you are capable of and stick to the plan that you have made for your horse.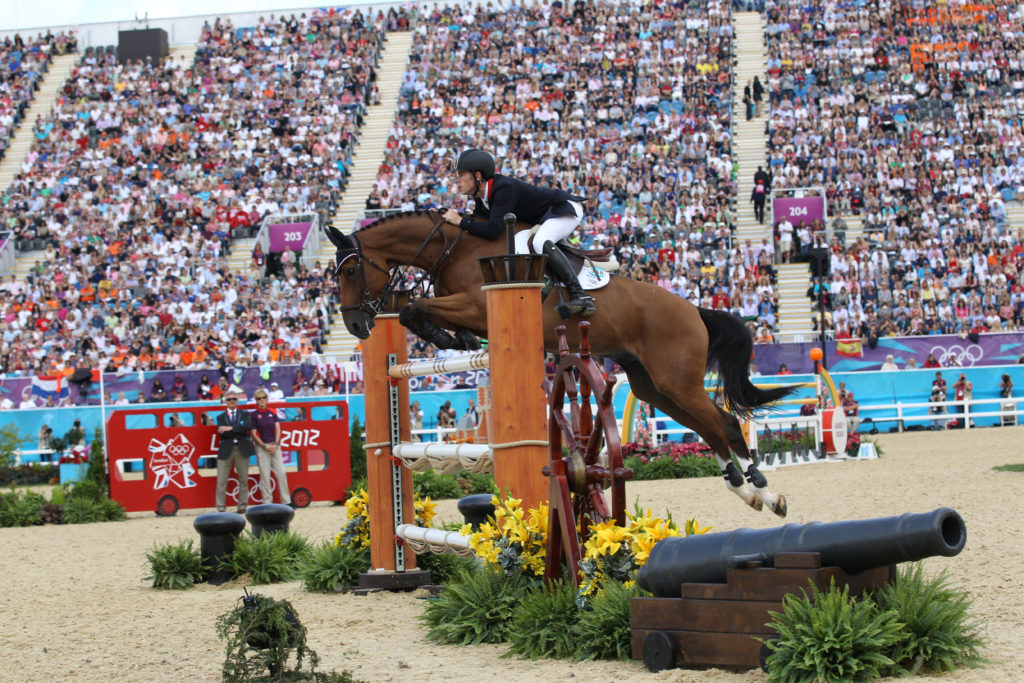 All this involves the concept and idea of respect and composure; respect of horses in their daily life and the way you treat them. Tell us, what is the daily routine of your horses?
Their life changes from week to week. When they come home from Aachen, for example, we will be giving them a few days break. They will be going out in the paddock, hacking out, and we will be looking after both their physical and mental wellbeing. When they compete, just like us, they can be stressed and anxious, or they can get excited, you have to take into consideration all of these things, and you have to look after that mindset. When you have been working hard every day to get that peak performance from them, you then have to let them chill out and allow them to go back to a nice and easy state of mind. The routine is always different. My horses come out their stable a lot; I would like to pass down this advice to people: horses should not be standing in a stable all day long, they should be out. If you want to jump any height, even 1.60m, you can't expect a horse to stand in a stable all day. They must be out as much as possible, in order to keep healthy muscles. They get fed and hand walked while their stables are mucked out. All my horses are ridden by 1pm, which means by then, they have already been out twice. After lunch they go out in the paddocks; horses have to be moving. They do want to come out, they don't enjoy staying in the stables. It would be like us being forced to stay in bed all day. My horses are looked after better than most humans, and this is how I recommend everyone to be looking after their horses.
Most of your horses have a long career and they reach their retirement when they are still healthy.
Yes, this is very important to me. I'm not a person that gets nervous when I'm riding, I would get more nervous talking to a room of people than riding. I would say that what worries me the most, will be the later years of Sanctos' life. It will be more nerve wracking for me because I generally want to make sure that my horses retire happy and sound at an old age, and not because of an injury. I think it is important that they finish their career in the best possible shape.
Today, being a rider means being a manager of yourself. How important is the relationships with owners, sponsors, and also the team that supports you?
That's a very good question. I always think to myself, riding is the easy bit, everything else is more important and sometimes more complicated, such as management of each individual horse in the best possible way. Managing my staff, communicating with owners, etc. You have to keep owners informed, the good the bad and the ugly, whatever is going on, you must communicate. Communicate with the sponsors, and all the people that make it happen for us. We must look after them in the best possible way we can. The horses are travelling the world; it is a very complicated management, it's hard stuff. It is very important to be respectful to everyone. It is easy to come out the ring and be disappointed and upset, but you must not take this out on your horses, your staff, your owners. It's a tough sport, but you need to try to be mentally as stable as possible, not get too low in the low times and don't let the success get to your head. You need to be respectful to everyone in your team, as they all put in a lot of hard work. There are frustrating times, but you can learn from these, make improvements and try again the next day. Us riders all need other people's help, so we need to be respectful of the team to be able to be at the top of the sport.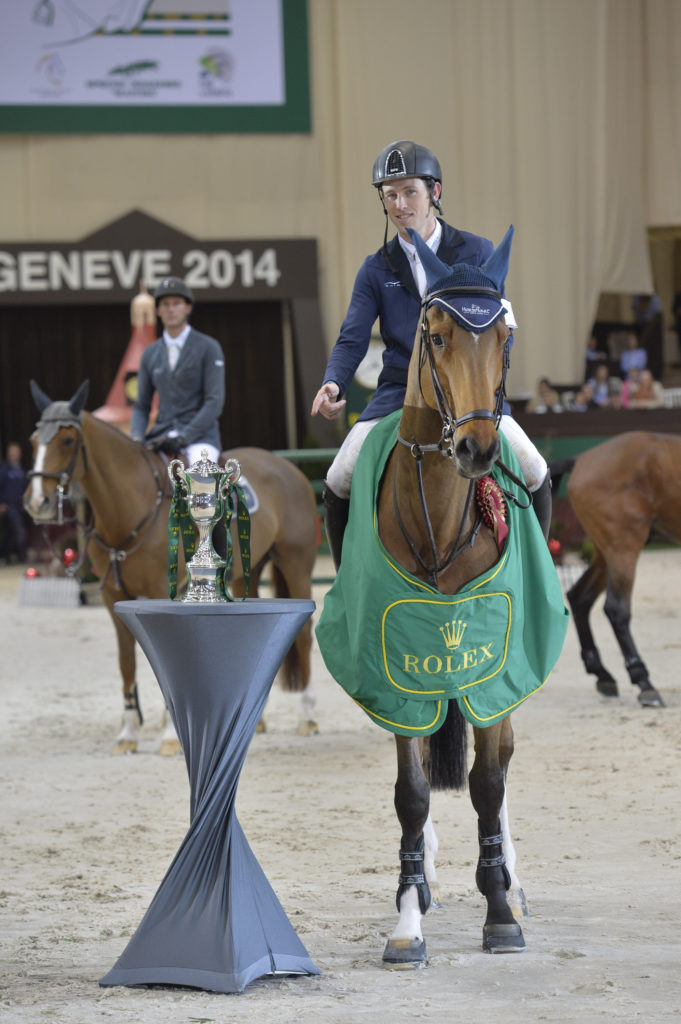 What advice would you like to give to a young rider, that wants to become Scott Brash?
I think people should aim at achieving a really good partnership with their horse, really trying to understand the horse and work with him, not against him. This doesn't mean that if our horse wants to go left and you need to go right that you let him go left, he still has to come right, but at the same time you have to work with him. Remember that anything is possible, if you work hard enough and you keep at it with putting in time and effort. If you don't go too low in the low times and too high in the good times, anything is possible. That would be my bit of advice to a younger person.
Do you love your life and your job?
Yes I do. Sometimes it is tyring because we travel the world, and in many other sports they can switch off from time to time but with horses it is 24/7. They are a living animal and things can happen, sometimes they need looking after in the middle of the night, so it can be very tyring. Also, travelling the world is tyring, but I still absolutely love what I do and the connection I have with horses. Also, no money can buy the feelings and emotions I get when I win a competition.
You love Scotlant, your home country…
Yes, absolutely. Logistically sometimes it is difficult. I bought a yard down south, closer to london, to make it easier to travel to europe, as we are mainly competing on the continent. It was nearly getting impossible to do this from scotland as it was too many hours of travelling for the horses and my staff. At the same time, i still have my family home in scotland and all my young horses grow up there. All my foals and young horses are there, and whenever my older horses need a break they all go back to scotland and they hack up the hills where the scenery is beautiful for them.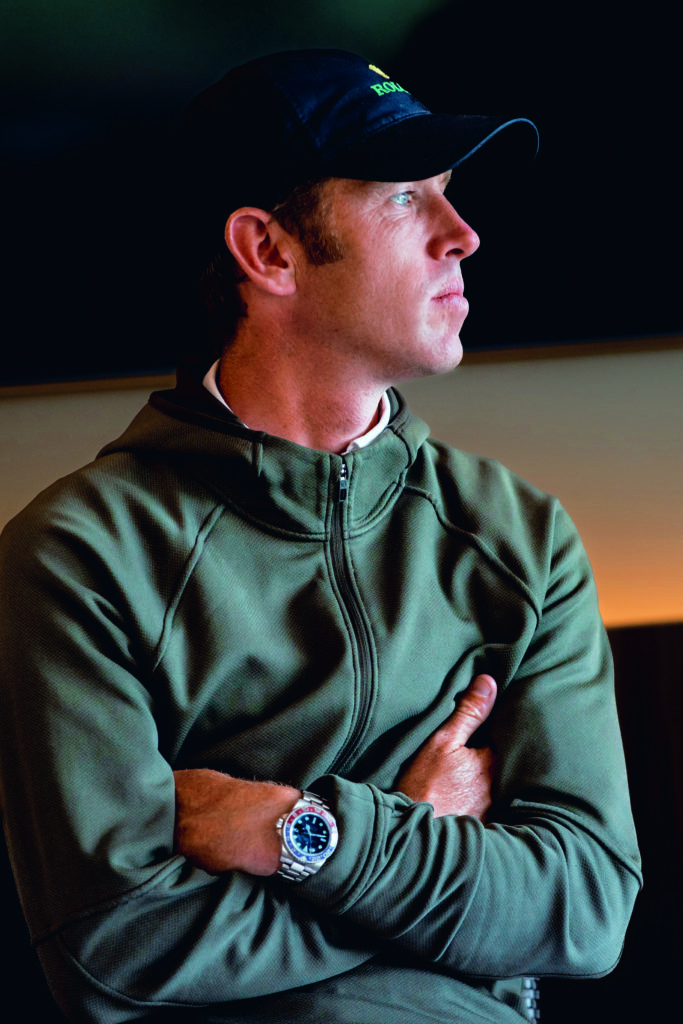 About Scott Brash
Born in Peebles, Scotland, in 1985, Scott spent his childhood riding ponies and competing every weekend. He was trained by Paul Barker and joined the Brendon Stud in West Sussex before catching the attention of Lord and Lady Harris and Lord and Lady Kirkham, who since then are currently Scott's owners and supporters. Scott is based in a yard in West Sussex, near London. Among his top horses are Hello Jefferson, Hello Vincent, Hello Shelby, Hello Senator, Hello Forever, Hello Vittoria and Hello Mr. President. Hello Sanctos, Ursula XII and Hello M'Lady were considered to be Scott's greatest horses. Sanctos and Ursula are happily retired at Scott's stable. Scott became the number one ranked showjumper in the world in November 2013 and retained the title of world number one showjumper for 12 months in 2014. He was inducted into the British Horse Society Equestrian Hall of Fame in 2015 Scott has launched a popular training platform: 'Scott Brash Equestrian Training'.
Cavalli & Cavalieri July/August can be purchased in printed edition and available for free in digital edition on cavalliecavalieri.com