A reference point for world show jumping, Rolf-Göran Bengtsson is a wise and sensitive man and rider, an excellent competitor with a strong personality and a special sort of charisma that make him one of the most respected men and riders in the equestrian world. The great Swedish champion has returned to be a team member at the most important events once again adding even more value to one of the strongest nations in the world: Sweden.
We met with him in Riesenbeck during the European Championships and his thoughts on the sport as it is at the moment provide us with important ideas and help one understand how and why a rider becomes a champion and remains one forever. The correct management of horses is what lies at the base of it, with the slow evolution of a farsighted programme that takes their needs into account. And the end of the day that is the only 'secret'…
After winning team bronze in 2013 in Herning riding Casall ASK, Bengtsson returned to the European Championships in Riesenbeck riding Ermindo W, the horse he had also ridden in the recent Nations Cup Final in Barcelona. In 2021 he competed in 5* shows in Rotterdam, Stockholm and St. Gallen returning to top sport, while in the meantime continuing to produce his young horses:
«It took a while because I had actually two horses after Casall, called Clarimo and Unita – said Bengtsson – Then, I rode Oak Grove's Carlyle and Crunch and then one horse was moved elsewhere and another was injured and he couldn't continue. My next group of horses included Ermindo W and he was a long way from being competitive in top sport and I needed a bit of time to bring him along. So, I've been out of the game for quite a while and that makes it extra nice to be back again. I think the horse is slowly getting ready for top sport. He is capable of doing it and of course we need a little bit more experience at the very highest levels, but we are slowly on our way and so it is nice to be here»..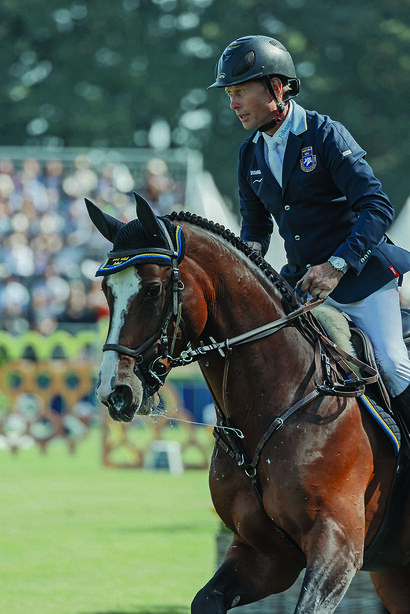 Tokyo 2020, food for thought
We have just come back from the Tokyo Olympic Games at which the new format was used with teams consisting of only three riders and the individual competition held before the team one. This was a 'destabilising' format that resulted in many discussions and is now at the centre of debates and proposals between institutions and athletes so as to come up with the right solution. Formats and all the rest aside, Sweden reconfirmed its excellence winning team gold and individual silver. We asked Bengtsson for his opinion on this subject:
«Even the old format has good things and also some less good things, but I think it's fairer if you rely a little more on results. It can happen that someone who rides like Henrik von Eckermann is clear all the way through and then doesn't get a medal. I think the format used at the Olympics is going to be discussed quite a bit, there are many opinions about it and it is something new, a format that is strange for everyone. On the subject of horse welfare, with the old format if something were to go wrong, then one could say 'ok, now I have had a really bad round' and could withdraw leaving the fourth rider of the team with at least a chance to put things right and one wouldn't feel the need to force one's horse to get through the course so as not to eliminate the whole team. So, the new format is very risky. I think there are going to be a lot of discussions about this and people will assess the whole format now and see if there is something we can do better. New things must be tested, of course, and one should find a middle way. That's what I hope. Two rounds count more than only one and with the new format if you are unlucky in one round you are definitely out, while normally if perhaps one has one fence down in the class, one could be clear in the next and with a clear and 4 one is still in the running if adding up these two results»..
The welfare of the horse first of all
Generally speaking, Sweden is always at the top, not only as far as the technical aspects of riding are concerned but also in horse management, because the welfare and the good life of horses are the first objective in the riders' way of living this sport:
«I think it's very important – commented Bengtsson – When a horse loves what it is doing and does its very best for its rider one must keep it happy and not take advantage of it! The risk is that of riding in too many shows, so it becomes difficult to have enough horses to be everywhere riding in big classes and being competitive everywhere. It is hard to stay high up on the ranking list and there are many reasons for which everyone says 'you need to go', 'you need to go', 'you need to go'… I think that if you can save your horses a little then they live a longer career and a good life. They stay with you longer and, if you have a really good one, of course you want to keep it for as long as possible because we all know how difficult it is to find good horses. But people have different mentalities and are different regards to how willing they are to compete really hard or maybe choose to say 'I will risk everything and shorten my horse's career'. I think it's a good thing now for people to see that riders who are really good can stay at the top even with horses they have for a long time and manage them very well. I think that to have good management and take care of our horse in the best possible way is the priority».
Written by Susanna Cottica
Read more on Cavalli&Cavalieri November/December 2021: