By DOTT.SSA EMANUELA VALLE DIP. SCIENZE VETERINARIE – UNIVERSITà DI TORINO EBVS® European Specialist in Veterinary and Comparative Nutrition
WHAT IS EQUINE ASTHMA?
Is the term to define horses with chronic respiratory problems. Asthma can be classified as mild or severe. Especially mild cases are difficult to recognize as the horses appear to be healthy. However, the cough must always be an alarm bell even when sporadic. Other signs are a slight increase in post-exercise breathing recovery or a runny nose. We must immediately contact the vet when we see that horses show these symptoms even if sporadic. If left untreated horses will become ill. In this last case the horses will struggle to breathe, even at rest. However, with appropriate treatment, equine asthma can be controlled. Health can be managed by varying environmental factors and possibly when the vet deems it appropriate by using drugs and possibly medications and treatment can be required.
12 is the number of breaths a horse at rest takes in one minute. These are sufficient to inhale more than 70 litres of air through the lungs, whereas, humans can inhale only 6 litres, with 15 breaths per minute. Given the amount that the horse needs, the air it breathes must always be healthy.
Too often the respiratory tract is subjected to inadequate environment in terms of air quality. This happens in several occasions such as:
Stabled horses
Ammonia, which is a strong irritant, is produced in the bedding. Ammonia comes from urea, a nitrogenous compound found in urine. Once in the environment, it is degraded into ammonia. This substance has a very strong pungent and irritating smell. In some stables the bedding accumulates more than 200 ppm of ammonia. As a reference, 35 ppm is the quantity that makes our eyes water. In the long run, this substance has detrimental effects on the health of the respiratory system.
To this we must add the dust present in the environment, in the forage and pollens. In the air we breathe there are bacteria, fungal spores, viruses, vegetable fibres and pollens that make up the so-called 'bioareosol'.
Nutrition
Forage is often the main cause of asthma in horses. It always contains a certain percentage of dust and is often also consistent in bio-aerosol. It is no coincidence that while the horse eats hay it often snorts to clear its respiratory tract. Choosing good quality hay makes all the difference for any horse. It must be clean, i.e., by shaking a handful in the air it must not produce visible bioaerosol. It must then be fed so that the horse stretches its neck downwards to eat it, below the level of the withers. For asthmatic horses we need to take the following precautions: For some, it is enough to wet the hay: however, it must soak for 20 minutes completely covered in water. Soaking it for a shorter amount of time would be ineffective, for a longer period would result in losing soluble nutrients such as sugars and proteins. For others, however, we adopt the steamer, which is a good way to purify the hay for all sport horses. It helps to reduce water waste, but also to better manage hay sanitation. In other cases, it is possible to use haylage. Excellent product, although very expensive and should be given in larger quantity as, being water based, it results in being heavier.
During work
Dust is very harmful. It is during work that the horse breathes the most and in its respiratory tract at a canter up to 1800 litres of air can pass through at certain times. The exercise arenas, in relation to how they are made, must be wet and regularly treated in order to reduce the dust content.
During transport
The horse is confined in a restricted area and therefore the possibility of having an environment with a lot of dust particles that can be inhaled is high. The steps to avoid this are:
– When bedding is used, it is advisable to make sure it's free from dust. Possibly sprinkle it with a little water.
– Use only dust free feed: for asthmatic horses it's better to use a hay net with steamed hay or small percentage of haylage.
– Allow the horse to lower his head. This helps the clearance of the first respiratory tract, where the dust particles are trapped in the short capillary hairs of the nose.
– Provide adequate ventilation: modern horse boxes all have a ventilation system as required by legislation for long transport. According to the European Commission's 'Good Practice Guidelines for the Transport of Horses' (2018) the ventilation capacity must be at least 60 m3/h/100 kg of live weight for both long and short trips. For journeys longer than 8 hours this is a legal requirement.
– Stop frequently to let the horse breathe clean air and to allow him to lower his head.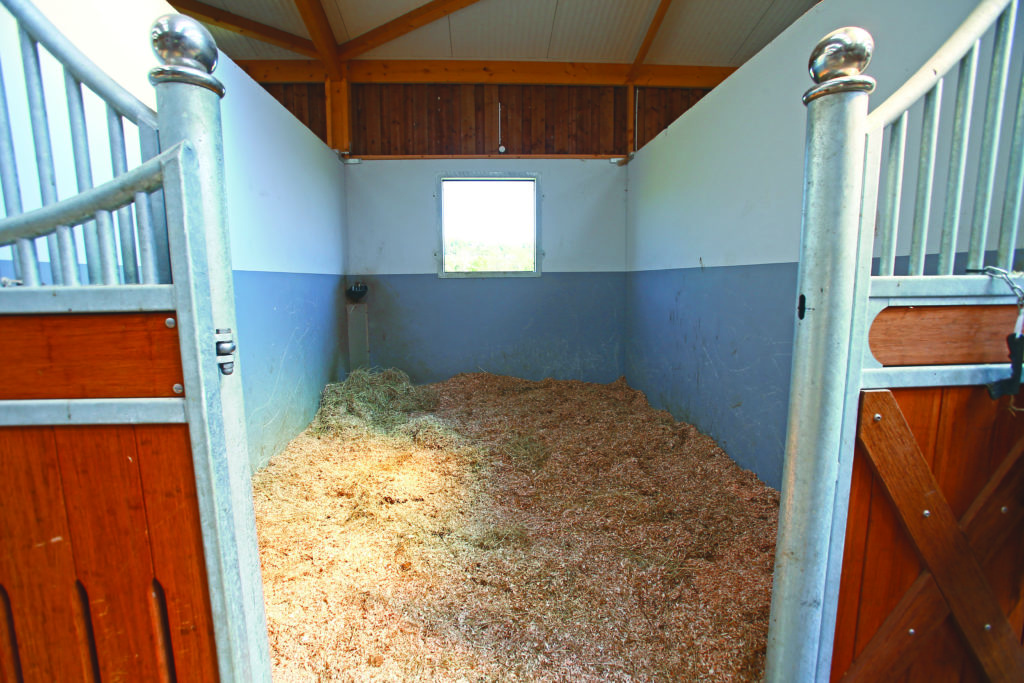 Improve the air quality in the stable
The air in the stable must be clean. For this reason, there must be continuous and constant air circulation. Opening doors is not necessary, but the stables must be equipped with ventilation systems. These can be natural and/or forced. They must be designed so that there isn't direct air currents on the horses.
– Keep the horses out of the stables as much as possible, using paddocks and fields.
– Leave the horses out of the stables and indoor corridors when cleaning barns.
– Use dust free forage. No to completely pelleted diets or with short fibre hay which, at times, can be used to reduce the duration of consumption.
– Use dust free bedding. Nowadays, in addition to shavings, it's possible to find dust free straw, coconut, paper bedding, etc. •
Cavalli & Cavalieri May/June is available and can be purchased in paper and digital format on cavalliecavalieri.com